A film based of the real-life story of Grazyna Czerny – about courage under oppression,
peaceful heroes and the downfall of the Communist System.
Winner: June 2022 Cannes World Film Festival:
Best Social Justice short.
Cannes World Film Festival
Outstanding Editing Achievement Award
Great Lakes Christian Film Festival:
Award Winner

Los Angeles International Film Festival/Indie Short Fest:
Winner: Tehnical Categories
London IAm Festival
Best Documentary Honourable Mention
See the film:
Background of Director
From Bent Myggen:
Background:
I was born in 1949 and raised in Denmark until I came to America at the age of 21.  My father was a journalist and radio-host and I learned the skills of interviewing from him.
My talents are primarily in music, but I also aquired skills in photography, editing and producing mixed media.  Living in Los Angeles for 14 years I and my then wife started a video production company "Win/Win Productions".  Our first film was about a couple we knew who had a natural childbirth in a tub in their living room.  We interviewed midwives on the forefront of the underwater-birthing-movement, along with Reverend Mary Ann Williamson.  We then were hired for more birthing-films and produced the documentary, "Gentle Birth Choices", – about natural childbirthing – which was hugely successful with midwives all over the country. 
Living in LA I produced all kinds of industrials, wedding videos, short documentaries, even a trekking video which we shot in Nepal (view some of these productions in the Video Galery).  Other projects took me to Greece, Turkey and Egypt. On the side, I was also working for production companies in LA, learning skills like lighting, rigging and set construction. After our son was born, my wife and I eventually moved to Santa Barbara, where we met and started to produce films for the Adventures in Caring Foundation.  Unfortunately our marriage fell apart and we lost our house, went bankrupt.
I continued producing and working for Simon and Karen Fox of AiC.  We did training films for medical students, inspired compassion and taught people-skills for doctors, nurses, first responders and volunteers.  Hospice Foundation uses our videos for training, as well as over 5,000 chruches and volunteer organizations across America.  One of our videos won the industry's highest award "Freddie", and we travelled to New York to receive the honors.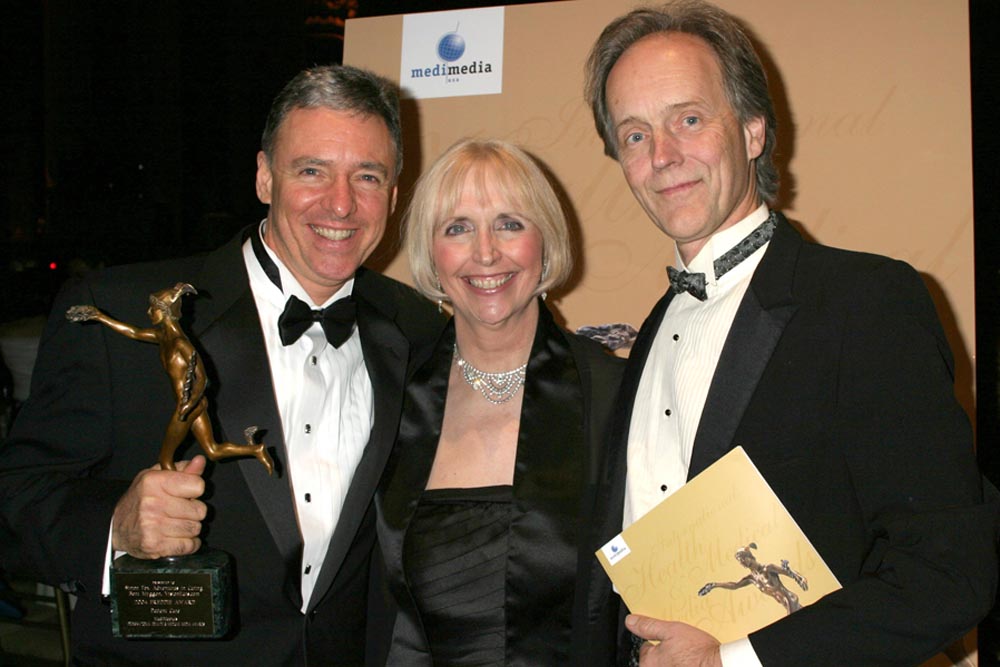 During the years working with Simon & Karen we developed an interview style that was unique at the time. Most TV interviews were a two shot from two angles where the camera would see the interviewer ask someone questions, then cut to the interviewee from an angle.  Instead, I had Simon stand behind the camera, and I would operate (and ask questions) as close to the lens as possible.  I would look up to make eye contact with our subjects, so they would have someone to connect with – rather than a lens – and look like they were talking directly to the camera.  Today everyone uses this technique, as it makes statements much more personal, but back then it was a revolutionary approach.
The key to all – perhaps 200 videos and documentaries I've produced, has been to connect on a human level, to find the heart of any organization or person interviewed.  For this I used the skills my father taught me, as well as the spiritual and personal insights I gained from working with Simon Fox – and others on my path.  I never write scripts, but interview like a journalist, edit and move forward to see where the story takes me.  My love for music has been the secret ingredient that made productions move and inspire the audience. (See examples at the Video Galery).
How this film came to be
 "Can you produce a film?"
Early in 2021 my good friend, Christiam Nebadon called to ask me, "Bent, can you produce a film?" This led to a meeting at David Nygren's house between Ms X (who wishes to remain anonymous), David himself, Grazyna Czerny and myself.  We had lunch and at the table Grazyna started telling her story to me.  We spoke about ways to bring the story to the world, and I suggested making a "demo", of 7 to 10 minutes to use for raising money for a larger production.  It was agreed and after writing up a proposal, Ms X and David paid me to start the work.
The first thing I did was show up with a camera to interview Grazyna.  I wanted her to tell her story to me "fresh", not rehearsed, although she had notes. We found a place in David's garden and she did.  I asked questions, she told me the whole story of her life behind the Iron Curtain, escaping to London, going back, joining Solidarity, meeting George Higgins.  This interview became the basis for the entire film.
It became clear to me that this was a serious undertaking.  I knew little of the events in Poland, or Solidarity, or the history of that part of the world, so I went to work to educate myself.  I created a spread-sheet with chronological lists of what happened in the West, behind the Iron Curtain, Russia, America, In Grazyna's life, even my own life living in the free world.
The scope
That's where it hit me that after the second world war, we in the West had the most expansive growth ever seen of technology, standard of living, inventions, freedom and prosperity while things behind the Iron Curtain went from bad to not much better.  I produced/edited the opening of the film as it is today, with this point in mind, ending with a scene of violence and oppression cut to young girls doing the twist in the West.  My idea was to have the audience be able to link their life-experience to what took place in the Eastern Block while few paid any attention.  I thought it would be a great idea to use this back-and-forth flashes, showing what was simultaneously happening in the East and West throughout the film, so people could relate events in the film to their own lives.
When I had this opening edited, Grazyna and Ms X came to the studio.  They both cheered and said, "you got it!".
I became interested – and wanted to show – what was the straw that broke the back of the Communist Regime?  How did the people hold on?  How did the wall fall?
During the next months Grazyna often came up by train from LA to more interviews, tell me details of how the Communist occupied system worked.  Simon Fox (we share office/studio space) often helped me with historical understanding as well as crafting the narrative, tone, text and voice-over we ended up using. We came to understand the colossal difference the Pope had made in supporting the faith of the People of Poland, and shaking up the Communists.  We learned of George Higgins, and the role he played between the American Unions, the Vatican and the Solidarity movement.
Somewhere along the line, I realized we really needed some re-enactment scenes if at all possible. It became clear that I could only find some historical pictures and videos and it wasn't enough to tell the story.  If this film was to be more than just a "teaser" and it looked like it was – we needed re-enactment scenes.  We could not shoot it here in America, but Grazyna had a good idea:  She knew friends in Poland who were part of a film-school and perhaps we could get them to work cheaply. She thought they would be thrilled to do so.
After I had produced (on a shoestring budget) of about 14 minutes and everyone involved wanted me to keep going, more money was raised by Ms X. to do so.  She became important to the production for more than one reason:  She was spiritually connected and would guide my choice of segments and where to focus. 
The Re-enactment Scenes
Somehow money was raised to do the scenes in Poland I felt we needed.  I had several video-conversations with the cameraman, Pietr and the instructor, Andrew.  They wanted a script, so I produced one. They wanted another style of script, so I worked up many pages with scene numbers,  camera-angles, location, lighting suggestions, etc.  A cast and a "star" was found and Grazyna went off to Poland to supervise the filming over 3 days.
When Grazyna came back with the footage used what I had of filters, layering, motion control and sound effects until we had some workable segments.
During Grazyna's visit to Poland she made a good connection with the Solidarity Museum in Gdansk, and she managed to secure raw historical footage from the famous meetings between Solidarity and the Polish Government, which I was grateful to stabilize and use effectively towards the end of the film.
How to end it?
So on it went.  My biggest concern for the production was how to end it.  What was the ending of the film, I kept asking myself, Ms X and Grazyna.  Was it the fall of the Berlin wall?  No, Grazyna had emigrated to the USA 8 years earlier.  So was it the with victory of Solidarity?  No, it was a short-lived victory as Martial Law was declared 6 month later. The film was about the unsung heros, like George Higgins, it was about the faith of the people, the courage of John Paul II, the support of Ronald Reagan and the American people.  When it came time to choose the title, I came up with "Candles in the Window". Luckily Grazyna and Ms X agreed.
At the completion of the project, I composed and produced an original music score. The film now had music almost wall-to-wall.  We had a screening at the studio and when the film finished, both Grazyna, Ms X and I had tears in our eyes.  "You did it.  It's a masterpiece" was said.  We had produced a wonderful film and all the long hours and sacrifices I, Ms X and my partner Linda had made were now behind us.