A Music Sanctuary at the center of Los Olivos
From Bent Myggen/Founder:
In 2021 The Crooked Path will host a summer-long music festival.  Some performances will be streamed,  but the garden is open for music lovers and those just needing to "de-compress".  As always, you may bring your own wine, food and such.
Saturdays we celebrate local bands and visiting performers.
Sundays we enjoy original music with Bent and others.
NOTE: Members of TheCrookedPath Tribe will be able reserve the limited seats.
Become a Tribe Member
Join our Tribe and support live music.
Like us on Facebook: 
See us on YouTube: 
Above video is a live recording and images from the Crooked Path.  Original song by Bent Myggen.

More about The Crooked Path? (Click here)
Walk-in during Weekends
The Crooked Path is the home & Music Sanctuary of Bent Myggen   and a place of renewal and inspiration. We are not a business, not a shop, not a winemaker, nor seller of time-shares.  We offer a peaceful setting and extraordinary original music performed by gifted performers.
Usually open to the public on weekends there is no cover charge, but donations and memberships are gratefully appreciated.  Our guests are welcome to bring their own wine or food from nearby restaurants (but no smoking, please).
The Music:
Many of the musicians coming to The Crooked Path have performed worldwide with famous acts.  Your host, Bent Myggen had a musical career  in Denmark, then emigrated the America and has written music for a number of films and TV shows.  Our excellent, analogue sound system is tuned to feature the sound of natural instruments and voices.
Membership
For the first time, and the 2020 music season we offer a membership-package to those who love and support the Crooked Path.  Several nice "perks" and privileges are included – click the "Members" button for more details.
Kids & Dogs
The Crooked Path welcomes guests with young humans and four-legged beings. At times things have gotten a little out of hand with dog-derbies, so we ask to keep yours leashed.  Kids listening, dancing is fine, while running wild is better in the park next door. We are a music sanctuary – a place of listening.
Contributions
Music is a gift, but contributions make the music possible. The Crooked Path is a sanctuary and does not sell anything.  Instead, we offer gifts such as the music itself, CDs, T-shirts, downloads, beads and trinkets if we have them. We are grateful when our guests leave offerings in the contribution-boxes (or Venmo).  For 2020 we are raising funds through memberships and GoFundMe – to be able to invite outstanding musicians as part of our events.

From Bent Myggen:
Music has been part every tribe, religion and civilization in all of human history. Today the sound of music (recorded music) is everywhere, but the spirit of music only exists when the music is live. Music connects and heals us all – and the more that listen, the greater the music.
What people say
From the Crooked Path Guest Book:
 Just what I needed this Sunday. Never have I seen such a hospitable and welcoming place.  Hard to imagine in this world of today. Many, many thanks.
Maggie & James
Love your music!!!  Perfect way to spend the time listening to your cool tunes and enjoying the vibe.
Petra.
Much better than Cold Springs Tavern!  Great music and relaxing atmosphere.
Bob and Val
Wow! Great times. Thanks.
Steve and Sandy
Another lovely afternoon in your marvelous sanctuary.  Thank you so much!
Wendy
Awesome sounds – both instrumental & vocals – Thanks!
Holly
Your music is amazing! Better than Eric Clapton.
Dominic
Thank you for sharing your gift and a touch of your soul.  Beautiful!
DeeDee
Wow wow wow! What a delightful surprise to drive by and hear your music!  Had to stop and visit for a while. Thanks!
Mannalea
Bent – your music brought tears to my eyes. Your voice and lyrics are so beautiful.  This sanctuary you have built makes me happy. Thank you for your creativity. It was much appreciated by us.
Matt & Perry
Dropping by on our way home to LA.  Such an unexpected gem!  Keep being a beautiful sanctuary!
Liz
Your talent is amazing!!!!
Beodriz and Jeff
The Crooked Path you moved us with your music and welcoming energy.  What an amazing venue. Brought us so much joy! You are amazing! Thank you for touching our souls!
Sandra
Your ability to draw us in from the street with your amazing talent is something very special.
Lori, Bek & /Cliff
Thanks for the moment of beauty & sharing your art & love of music.
Matt & Vicki
What a perfect place to spend an afternoon.  Great atmosphere. Lovely songs & just overall fabulous.  Thank you!
Barbara
This is such a special place.  I am so thankful thing like this still exist.  It's grounding and brings people back to the moment.  I can't wait to spend more weekends listening to your amazing music.  Thank you.
Linda
Why become a Member?
We ask for your support in becoming members of our "Tribe among the tribes".  A Donation of  $60.00 will enable us to invite more performers for the 2020 Music Season and make you an insider of  The Crooked Path.
Membership – also means special access:
Access to member pages to play or download music from Bent and TCP artists.
Ability to reserve seats and tables in advance.
See live webcam footage during weekends.
As a member – and with an added, sensible donation – you and up to 5 of your friends can also be our special guest(s) for all of Saturday or Sunday afternoons. You will have full access to our garden, kitchen & bathroom. You can rest, converse, wander in town, have wine and munchies, get healing-treatments – even go on a joyride in the hills with Rev. Bent in his classic VW camper-bus.  For members only and  reservations needed.  Call to discuss details.
Info for performers about playing at TCP
We say, If you can listen, you can play
Players, singers, combos & bands are welcome to contact us and possibly schedule a performence, or sitting-in at The Crooked Path.  For groups/bands we are particularly interested in original music with a gentle, style of performance.  Jazz, folk, indie-rock, funk, R&B, reggae is spoken here and we are open for callaborations.  Send us a note with a description of what you do and links to music or other materials if you have it.
What we offer bands and performers:
We have an extraordinary all-analogue sound system, where the musicians have the best seat in the house.  We have smaller amps if needed, great keyboard as well as a fully functioning Hamond B3 and Leslie.
All performances can be multitrack recorded (24) on individual tracks, which those performing are welcome to have and use for their own purposes.  Bring your own chips or we can upload later.
We have the ability to stream live video & audio (mixed from the PA). Mostly this is intended for members-only access, but with some preparation the stream can be hosted by others.
Payment for performances vary, as TCP is open to the public and take contributions from the audience.  For guest bands and combos we usually share 50% of all contributions made in-person and on-line.
Call us, leave a message for either Karen Seeley or Bent Myggen at (805 693 5678 or email: Info@thecrookedpath.org
Upcoming Events at The Crooked Path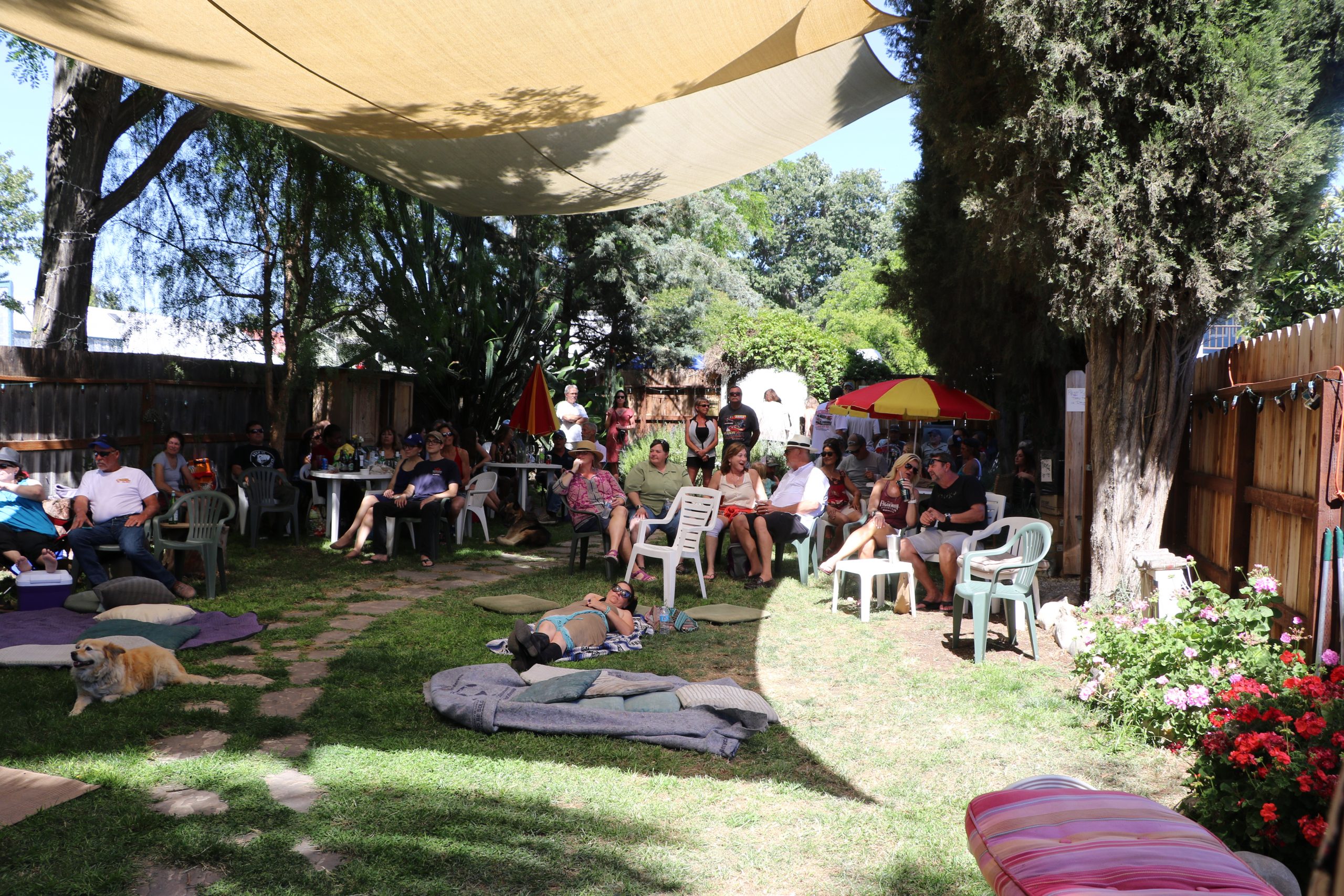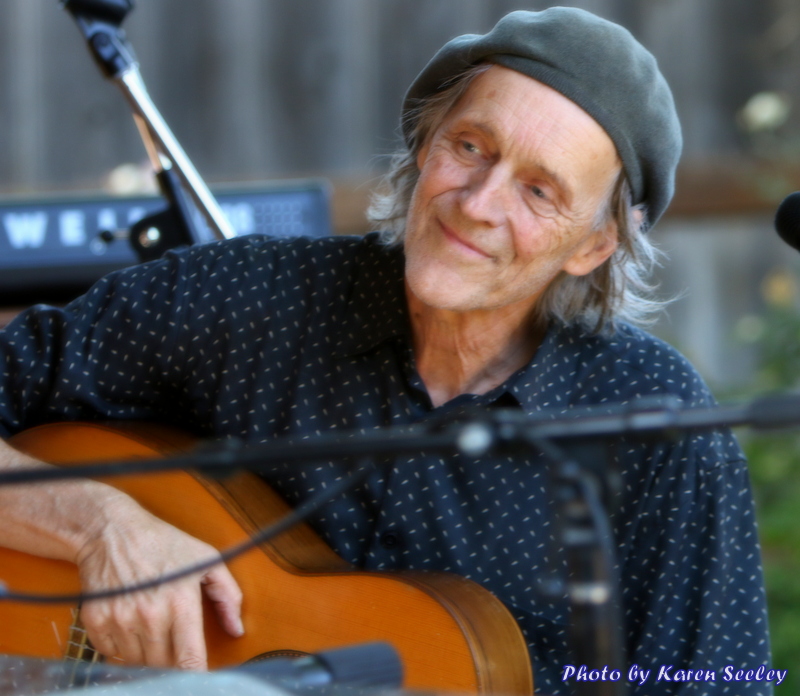 Call (805) 693 5678 or Email:
A few videos from The Crooked Path:
The music is free, but gas, strings, equipment, water, electricity costs money, so contributions are most appreciated.  Become a member or make a donation via Venmo/PayPal. Thank you!